London, the bustling cosmopolitan capital of the UK, abounds with a plethora of activities tailor-made for couples looking to create unforgettable memories. Whether it's strolling hand-in-hand along the Thames, exploring vibrant food markets, visiting world-renowned museums, or enjoying a sunset view from the London Eye, the city offers an array of experiences that cater to diverse interests and tastes. This guide will provide a selection of delightful activities for couples in London.
Why is London An Ideal Place For Couples?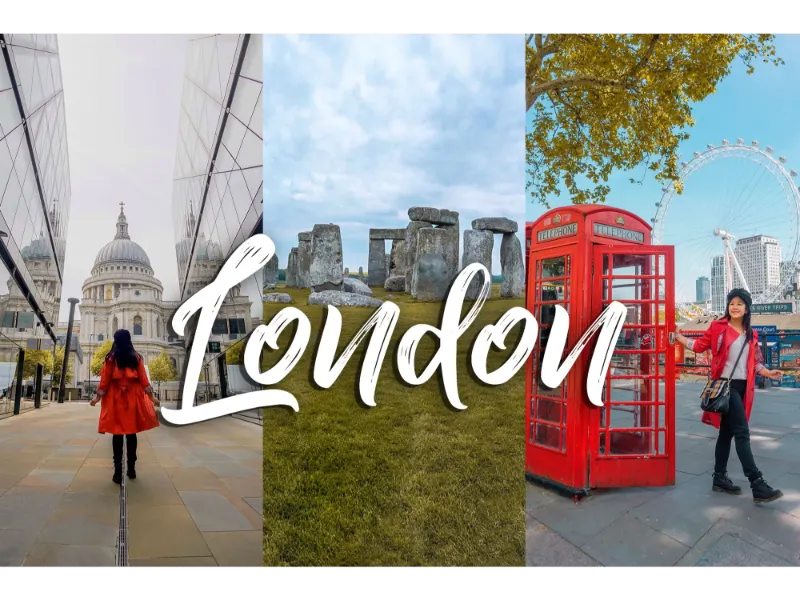 London, the historic capital of England, is a city that garners universal admiration for its rich heritage and bustling city life, making it an ideal destination for couples. Its myriad attractions, ranging from iconic landmarks to peaceful parks, provide countless opportunities for shared experiences and creating cherished memories.
The city's ambience embraces a beautiful blend of history and modernity that is sure to captivate couples. Walking hand-in-hand along the cobblestone streets, you're bound to find hidden gems tucked away in the form of quaint bookstores, charming cafes, or antique shops. The city's architecture is another spectacle, with structures like the imposing Tower of London or the modern Shard, offering breathtaking panoramic views of the city, ideal for a romantic evening.
London's sprawling parks such as Hyde Park or Richmond Park offer an oasis of tranquility amidst the city's bustling surroundings. These green spaces are perfect for a leisurely stroll, picnic, or even a boat ride in the Serpentine Lake, providing an intimate setting for couples to connect amidst nature. The Royal Botanic Gardens at Kew, another stunning attraction, is home to a fascinating variety of flora, creating picture-perfect backdrops for romantic moments.
Culture and art-loving couples would be thrilled by London's world-renowned museums and art galleries like the British Museum or the Tate Modern, housing priceless collections. Experiencing these together not only fosters a shared appreciation for art and history but also initiates enlightening conversations, deepening the bond between partners.
London's culinary scene is as diverse as its inhabitants, with restaurants offering cuisines from around the world. From fine dining experiences at Michelin-starred restaurants to cozy meals at local pubs, there is something for every palette and budget. Enjoying a meal together at these establishments, or perhaps embarking on a food tour, is a delightful sensory experience couples can share.
The city's vibrant nightlife, accentuated by its numerous pubs, bars, and clubs, presents opportunities for fun-filled evenings. Watching a play at the West End, a concert at the O2 Arena, or simply enjoying live music at a local pub, contributes to the unforgettable experiences London offers.
The city's excellent transport links, including its iconic double-decker buses and the London Underground, ensure easy navigation. This means you can maximize your time exploring and enjoying the city together, rather than worrying about logistics.
In summary, London's charm lies in its ability to cater to a myriad of interests, tastes, and budgets. Its unique blend of history, modernity, culture, and nature creates an environment where couples can not only enjoy a multitude of shared experiences but also discover more about each other in the process. Therefore, it stands as an ideal city for couples, promising experiences that are as diverse and memorable as the city itself.
Top 10 Destinations For Couples in London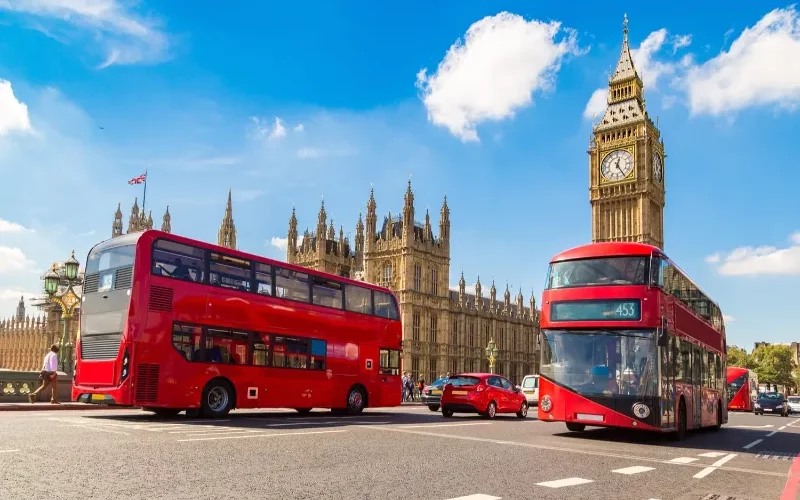 London is often referred to as the city of love, and for good reason. This bustling metropolis is filled with romance at every corner, making it a popular destination for couples from all around the world. With its stunning architecture, beautiful parks and gardens, vibrant nightlife and rich history, London has something for every kind of couple.
If you're planning a romantic getaway or a honeymoon in London, here are the top 10 destinations that you must visit with your significant other.
The London Eye
The iconic London Eye is a must-visit for every couple. Take a ride on this giant ferris wheel and get a bird's eye view of the city while enjoying a glass of champagne with your loved one. The breathtaking views of the city's landmarks such as Big Ben, Buckingham Palace and the River Thames will leave you in awe.
Hyde Park
Escape the hustle and bustle of the city and take a stroll through Hyde Park with your partner. This sprawling green space is home to beautiful gardens, lakes, fountains and even a rose garden. Pack a picnic basket and enjoy a romantic lunch together while surrounded by nature.
St. Paul's Cathedral
Climb to the top of St. Paul's Cathedral and admire the stunning views of London with your loved one. This historic landmark is not only an architectural marvel, but it also has a romantic history – it was the site of Prince Charles and Princess Diana's wedding.
The Shard
For a truly unforgettable experience, visit the top of The Shard – Western Europe's tallest building. Enjoy a romantic dinner at one of its restaurants while taking in the panoramic views of London's skyline. You can even book a private viewing and propose to your partner against the breathtaking backdrop.
Camden Market
If you're looking for something more unique and quirky, head to Camden Market with your significant other. This lively market is a treasure trove of vintage clothes, handmade jewellery and street food from around the world. Enjoy shopping together and indulging in delicious treats while soaking up the vibrant atmosphere.
Shakespeare's Globe Theatre
Step back in time and experience the romance of Shakespeare's plays at his reconstructed Globe Theatre. Watch a play with your partner and feel transported to Elizabethan England. You can even take a tour of the theatre and learn more about Shakespeare's iconic works.
Covent Garden
Covent Garden is another popular spot for couples, with its charming cobblestone streets, street performers and boutique shops. Enjoy a romantic dinner or drinks at one of the many restaurants and pubs in this area, or catch a show at the Royal Opera House.
Regent's Park
Regent's Park is another beautiful green space that is perfect for a romantic walk with your partner. This park is home to stunning rose gardens, a boating lake and even a zoo. Spend an afternoon exploring this picturesque park and end it with a romantic picnic or dinner at one of its many cafes.
The London Zoo
Speaking of zoos, the London Zoo is a must-visit for animal-loving couples. Spend a day together admiring the diverse range of animals from around the world, including penguins, lions and giraffes. You can even book a VIP experience and get up close and personal with your favourite animals.
Thames River Cruise
Finally, a visit to London is not complete without a romantic cruise along the River Thames. Choose from a variety of cruises, including sunset dinner cruises, afternoon tea cruises or even private boat tours. Take in the stunning scenery and enjoy each other's company as you sail past iconic landmarks.
What Are The Activities For Couples in London?
The London Eye
A trip to the London Eye isn't merely about sitting in a large capsule and gazing out. The experience starts with the 4D cinema experience, a ground-breaking film with in-theatre effects like wind, bubbles, and mist to make you feel like you're really there. As your capsule ascends, the city unfolds around you, unveiling London's famous landmarks. You may also opt for the champagne experience, creating a moment where you and your partner toast to your love, high above the River Thames.
Hyde Park
Activities in Hyde Park include rowing and pedal boating on the Serpentine Lake, horse riding along designated routes, and enjoying outdoor swimming in the Serpentine Lido. You can also visit the famous Diana, Princess of Wales Memorial Fountain, or simply enjoy a leisurely stroll or cycle through the scenic paths. The park also hosts various concerts and events throughout the year.
St. Paul's Cathedral
Apart from admiring the Cathedral's sublime architecture, visitors can explore its crypt, housing tombs and memorials of various historical figures. A climb up to the Golden Gallery, following the Whispering and Stone Galleries, offers panoramic views of London. For some quiet contemplation, the Cathedral's chapels provide a peaceful sanctuary.
The Shard
At The Shard, you can enjoy a meal at one of the exquisite restaurants – Aqua Shard, Hutong, or Oblix. Each offers a unique menu and breathtaking views of the capital. You can also visit The View from The Shard, where digital telescopes provide information about various visible landmarks.
Camden Market
Camden Market is about shopping and dining. With over 1,000 unique shops, stalls, bars, and cafes, you can shop for vintage clothing, unique artwork, antiques, and even bespoke jewelry. The global food stalls are perfect for a culinary adventure.
Shakespeare's Globe Theatre
At the Globe, you can watch world-renowned productions of Shakespeare's works. You may also take a guided tour to learn about the reconstruction of the theatre, its history, and the context of Shakespeare's plays.
Covent Garden
Beyond shopping and dining, Covent Garden is known for its street performers who entertain the crowd with music, magic, and acrobatics. You can also visit the London Transport Museum or the Royal Opera House, which offers backstage tours and a chance to see the artists at work.
Regent's Park
Here, you can explore the beautiful Queen Mary's Gardens, take a pedalo out on the boating lake, or visit the Open Air Theatre during the summer months. Regent's Park also houses the London Zoo, guaranteeing a fun-filled day of wildlife exploration.
The London Zoo
At the Zoo, you can participate in interactive feeding sessions, watch live animal shows, and attend talks by zookeepers. You can also go behind the scenes with a special zookeeper experience, giving you a unique insight into what it takes to care for over 700 species of animals.
Thames River Cruise
On the cruise, you can enjoy live commentary, see London's landmarks, and even opt for a dinner cruise to enjoy a gourmet meal. Some cruises also offer high-speed thrills, giving you an adrenaline-pumping, swift tour of the River Thames. Couples may opt for the sunset cruise, offering the double delight of London's skyline bathed in twilight hues, accompanied by sparkling wine and canapés.
Each of these activities lets you immerse yourself in the heart of London, creating shared experiences and cherished memories with your partner in this timeless city.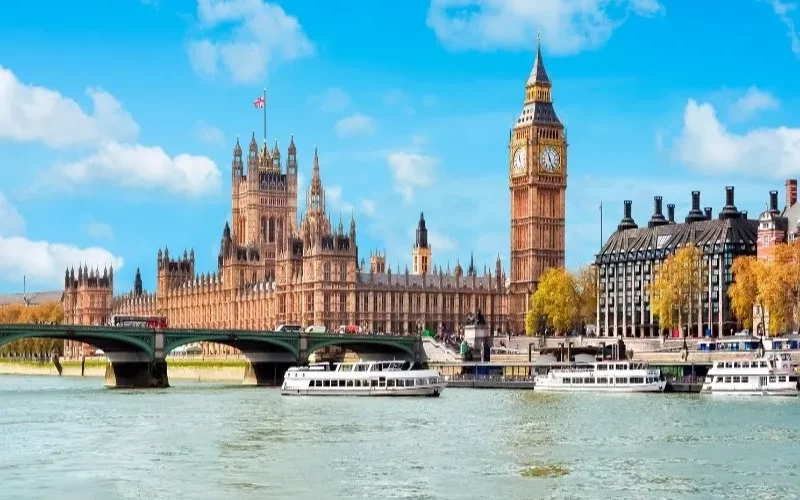 What do people wear to go out in London?
The London Eye
For this iconic attraction, you want to dress for comfort but still maintain a touch of style. Ladies might opt for a stylish yet comfortable pair of jeans paired with a chic top and a lightweight jacket. Footwear should be comfortable flats or trainers for the walking aspect. Men can opt for casual trousers or jeans with a comfortable shirt and a blazer. Don't forget to accessorize with sunglasses and a hat for the daytime ride. For the champagne experience, you might want to elevate your look a bit, perhaps with a dress or a smart shirt.
Hyde Park
With outdoor activities aplenty, your outfit should be sporty and casual. Breathable fabrics are a must. Opt for comfortable shorts, a tee or a light sweater, and most importantly, a good pair of sneakers. Don't forget your sunglasses, a hat for sun protection, and perhaps a lightweight backpack for carrying essentials like water and sunscreen.
St. Paul's Cathedral
Modesty is key when visiting religious sites. Both men and women should aim for attire that covers their shoulders and knees. A sundress paired with a light shawl or cardigan would be ideal for women, while men could opt for a pair of chinos and a nice shirt. Comfortable footwear is a must for the climb up to the galleries.
The Shard
The Shard calls for a more dressy outfit. Ladies can't go wrong with a nice dress paired with heels, and a chic purse for essentials. For men, a pair of smart trousers, a sophisticated shirt, and a pair of dress shoes would work. For dinner, consider dressing up a bit more – women might opt for a cocktail dress, while men could consider a suit and tie.
Camden Market
Camden Market calls for relaxed, boho-chic style. Think relaxed jeans, funky t-shirts, and perhaps a leather jacket. Comfortable walking shoes are a must. Don't forget your backpack or a large tote to carry your finds.
Shakespeare's Globe Theatre
A relaxed, smart-casual look works well for the Globe. Women might choose a breezy dress or skirt and top combo, while men could opt for chinos and a smart polo. Bring a light jumper or shawl for the evening chill.
Covent Garden
Comfortable yet stylish is the key for Covent Garden. Women might opt for a chic jumpsuit, paired with comfortable flats or sandals. Men can opt for a nice pair of jeans and a shirt. Carry a light jacket in case it gets cool in the evening.
Regent's Park
Casual and sporty attire would be appropriate for Regent's Park. Opt for breathable fabrics and comfortable shoes for walking or cycling. Don't forget a hat and sunglasses for sun protection.
The London Zoo
Dress for comfort and weather. Opt for casual, breathable garments and comfortable footwear. A hat and sunglasses are advised for sun protection, and don't forget to carry a backpack for essentials.
Thames River Cruise
Dress according to the time of day. Casual attire is fine for daytime cruises but for evening dinner cruises, you might want to dress up. Women could opt for a stylish dress and men might choose a smart casual shirt and trousers. Don't forget a light jacket or shawl as it can get chilly on the water.
Remember, the key is to combine comfort with style, and always check the weather forecast before deciding on your outfits.
FAQs
What are some romantic activities for couples to experience in London?
London is one of the most visited cities in the world, and for good reason. Its rich history, stunning architecture, vibrant culture, and diverse population make it an ideal destination for couples looking to explore and create unforgettable memories together. From romantic walks along the River Thames to enjoying a traditional afternoon tea, there are countless activities to keep you and your significant other entertained in London.
How can couples experience the city's iconic landmarks in a unique and romantic way?
One of the best ways to experience London's iconic landmarks is by taking a scenic helicopter ride over the city. This allows you and your partner to see famous sites such as Buckingham Palace, the Tower of London, and Big Ben from a new perspective while enjoying a thrilling and romantic adventure together. For a more low-key option, you can also take a romantic cruise along the River Thames to see the city's skyline from a different angle.
What are some must-visit attractions for couples in London?
No trip to London is complete without visiting some of its most famous attractions. The London Eye, one of the world's largest observation wheels, offers breathtaking views of the city and is a popular spot for couples to take in the sights together. Another must-visit attraction is the Tower Bridge, where you can walk across its glass floor and marvel at the panoramic views of London's skyline.
How can couples add a touch of romance to their dining experience in London?
London boasts an impressive array of restaurants to suit every taste and budget. For a romantic evening, couples can dine at one of the city's many rooftop restaurants offering stunning views of London's skyline while enjoying a delicious meal. Another option is to book a table at a traditional British pub and cozy up by the fireplace with a pint of ale and some classic pub grub.
What are some unique cultural experiences for couples in London?
For couples interested in immersing themselves in London's diverse culture, there are plenty of unique experiences to be had. Attend a performance at Shakespeare's Globe Theatre and transport yourselves back in time to the Elizabethan era. Take a cooking class together and learn how to make traditional British dishes like fish and chips or hearty meat pies. You can also visit one of London's many museums and art galleries to admire the city's rich history and artistic heritage.
How can couples relax and unwind in London?
With its bustling city streets, it may seem hard to find a moment of peace in London. However, there are plenty of ways for couples to relax and recharge while visiting the capital. Book a couple's spa day at one of London's luxurious spas and indulge in a massage or spa treatment together. For a more budget-friendly option, pack a picnic and head to one of London's many parks, such as Hyde Park or Regent's Park, for a romantic afternoon surrounded by nature.
What are some off-the-beaten-path activities for couples in London?
For couples looking to venture off the beaten path, there are plenty of hidden gems to discover in London. Take a stroll through the colorful streets of Notting Hill and visit the famous Portobello Road Market to find unique souvenirs and antiques. For a spooky date night, book a tour at the Tower of London and explore its dark history and ghostly tales.
You can also escape the city for a day trip to the charming countryside town of Bath, where you can visit ancient Roman baths and relax in natural hot springs.
Overall, London offers endless opportunities for couples to experience its charm and beauty together, making it a perfect destination for a romantic getaway. Whether you prefer adventurous activities or leisurely walks through the city, there is something for every couple to enjoy in London.
Conclusion
In conclusion, London offers a myriad of activities for couples seeking shared experiences. Whether you're drawn to the cultural richness of the city's museums and galleries, find romance in its many parks and gardens, or seek excitement in its food markets and theatrical performances, there's something to suit all tastes.
Indeed, the city's diverse offerings ensure that couples can create treasured memories, strengthening their bond amidst the hustle and bustle of one of the world's most vibrant metropolises.